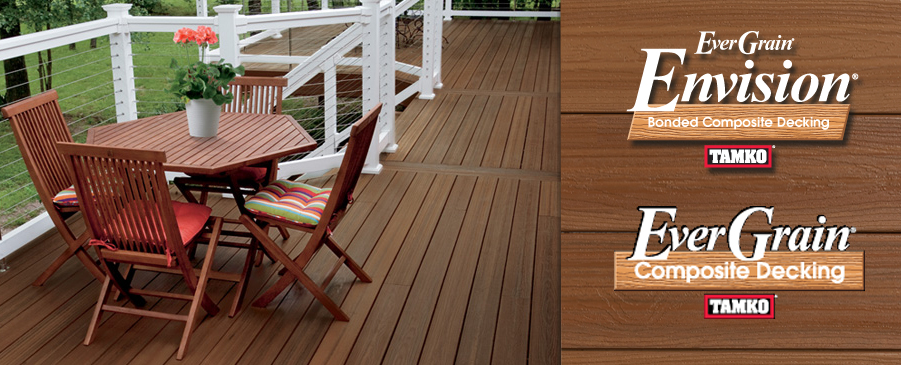 Evergrain Envision® Bonded Composite Decking
Technology
Envision a whole new level of beauty and performance from TAMKO®.
With its dramatic deep grain beauty and more random wood patterns, compression molded EverGrain® Composite Decking has always offered an attractive decking option. Now, a new natural beauty is available in a bonded composite deck board that takes EverGrain's performance a step further. Introducing EverGrain® Envision®—made with an added layer of protection that is bonded in the compression manufacturing process for excellent strength and resistance to delamination.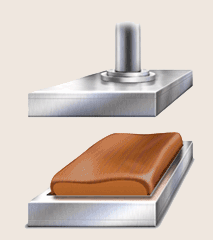 A belief that a better process makes better deck boards.
A better manufacturing process makes for better deck boards. That's the TAMKO® philosophy—and why we believe the compression molding manufacturing process of EverGrain® Envision® makes it a better compression molded deck board. The compression process helps create a physical bond between the outer layer and core board for added protection, while also enabling the use of more random wood grain patterns that help create the more natural look and texture of real wood.
Natural Beauty deserves to be preserved
The true, multi-shaded colors1 will captivate you.
1 Before making your purchase, view several full-length boards. Representation of these colors is as accurate as modern technology will permit. As with any composite product, color variations will occur. View several full-length pieces of material prior to final color selection and installation. Colors will usually weather to a lighter shade within the first several months of exposure to the environment.
Shaded Auburn
Rustic Walnut
Spiced Teak
EverGrain® Composite Decking
Natural beauty unlike any other
Deep lasting, wood-like grain created by multiple grain patterns for authentic natural beauty
Classic Collection features attractive natural colors

Performance that puts you at ease
Low maintenance material—no need for painting or staining
20-year Limited Warranty against rotting, splintering, splitting and termite damage—also comes with a 5-year Full Start Period
Low moisture absorption helps to protect the integrity of the board
Easy installation
Add the perfect finishing touch
Install with EG 1•2•3 Hidden Fasteners to add smooth, sleek beauty
Coordinating railing systems complement the beauty and complete the look