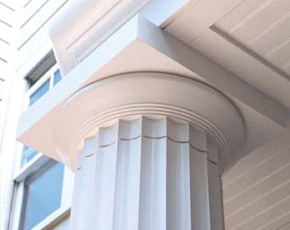 Turncraft
At Turncraft the quality starts with the materials.
As a division of Cascade Wood Products, we have direct control of the raw materials used in our wood products. Unlike other column manufacturers, our ability to monitor materials at each step of the process ensures every Turncraft wood column will offer both the natural beauty and the quality needed to stand the test of time. Quality control is further improved by using specialized machinery unique to each product line. By keeping our manufacturing facilities separate, we can better monitor, control and improve how well and how efficiently all of our products are constructed.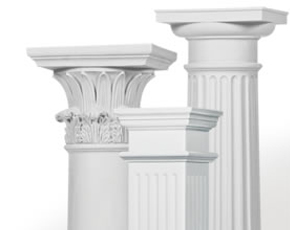 Column & Post
Collaborative Commitment
Since 2002, Column & Post has been providing a wide range of distinctive benefits to homebuyers, architects, builders, interior designers and other craftsman within the design/build and restoration communities. Whether it's a brand new luxury home or an historic renovation, we work seamlessly with other trades to assist in creating home interiors and exteriors of unparalleled style, elegance and distinction. Drawing upon the enduring classic designs of Greek and Roman architecture, our expansive line of architectural columns, posts, capitals, bases and architectural accessories offer unrivaled quality and durability.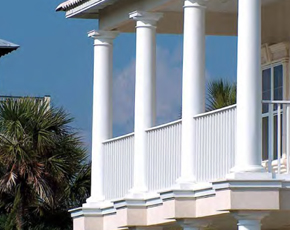 HB&G
The traditional American front porch… it's where we welcome friends and family into our home. It's where we sit and enjoy their company. It's the place where we go to escape the stress of daily life and take the time to sit back, relax, and enjoy life.
The last thing you want to worry about is the work required to keep your porch beautiful, and that's where HB&G can offer you the solution of a lifetime.
HB&G offers a wide variety of porch products to help you create the design that best suits your way of life. Best of all, many of our products require little or no maintenance and come with a lifetime guarantee.
Our products include Permacast fiberglass porch columns, column caps and bases, PermaWrap PVC column wraps, PermaLite square columns, wood columns, porch railing, porch posts, porch ceiling panels, balustrade systems, and pergolas.
In addition to our lifetime guarantee, we are unmatched in customer care and technical support. Our highly-trained staff are waiting to answer any questions you may have. Our Architectural department is eager to assist in custom applications as well as creating a custom product or product line to ensure you get exactly what you need.