Decking and Composite Decking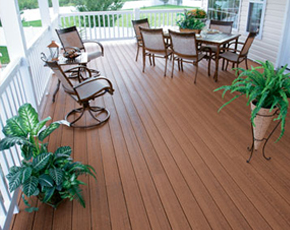 Evergrain
EverGrain Composite Decking is made with TAMKO exclusive compression molded process for a deep grain look that stays beautiful. As the only compression molded composite decking product, EverGrain® Composite Decking features an incredibly true-to-life, deep lasting grain. It's the perfect low maintenance option for those who love the natural look of real wood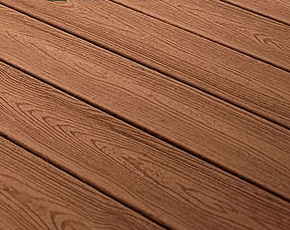 Trex
Trex is the leading brand of alternative decking, railing, and trim products designed to maximize your outdoor living experience. Since then, Trex has inspired many imitators, but they still can't match the enduring quality and beauty of Trex. In the end, there is only one genuine Trex. Be sure to ask for it by name.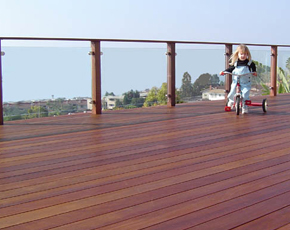 IPE Deck
Ipe is an extremely dense tropical hardwood with tested durability and performance characteristics. It is rated resistant to attack by decay, fungi,and termites. Ipe will provide many years of service when properly installed, and has been rated fire-resistant without any additional treatment! Ipe left untreated will turn a patina gray. It will maintain its light to dark olive brown color if treated.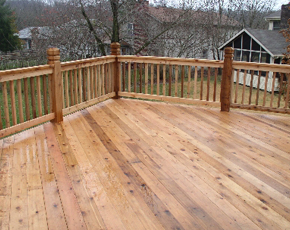 Cedar Wood
Inherently resistant to moisture damage, cedar offers your outdoor improvements a level of stability that is unmatched by other lumber choices. With less than half the swelling and shrinking tendency of lesser softwoods, cedar lies flat, stays straight, retains fasteners and provides a firm base for paints and stains. Maintenance is minimized for long-term savings.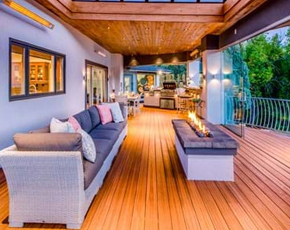 Envision Decking
Envision® your deck blurring the space between your home and the beauty of the natural world. TAMKO® reimagines deck boards with grain patterns and hues taken from nature's garden. Homeowners with an eye for exquisite detail and with a passion for the outdoors will love the Envision® series. Compression molding and bonding helps ensure Envision® deck boards stand up to nature's wild side without losing their charm.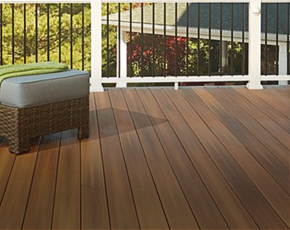 Fiberon Decking
A high-performance, eco-friendly wood alternative, Fiberon decking offers the warmth and appeal of natural hardwoods without all the time and expense of maintenance. Choose from a wide range of colors, finishes and options to fit your style and budget.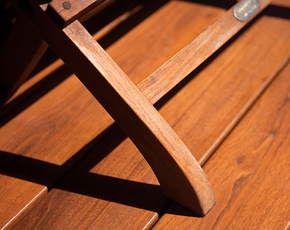 Zuri Decking
Zuri® Premium Decking by Royal® separates itself from ordinary decking, because it leaves homeowners who expect everything wanting for nothing. Seeking the classic beauty of exotic wood with none of the maintenance issues? Zuri delivers greatness in square board form.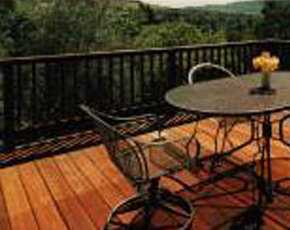 Mangaris Decking
Mangaris™ is the trademark of the top quality premium hardwood decking line, which is manufactured from all clear heart premium grade selection of Red Balau, Yellow Balau and other specie. Produced from a genuine hardwood, Mangaris™ offers the homeowner a 20 year warranty against rot and decay.
AZEK Decking
AZEK Deck is built to withstand a houseful of spills and objects, so you can actually live on your AZEK Deck. Spilled wine, fruit punch, even hamburger grease are no match for AZEK Deck's stain resistance. Since AZEK Deck is scratch resistant, you won't have to worry about scuffs during installation and your AZEK Deck will continue to look great for years to come.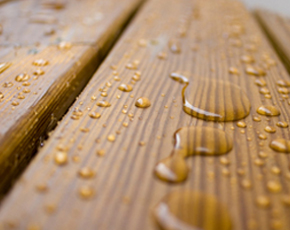 Deck Finishing
Proper deck finishing must begin with preparing the deck surface. Every deck finishing product is made up of one or a more of the following compounds. Oils, Parrafins and Resins, Preservatives and UV Inhibitors. There are 3 commonly used types of finishes. Each one has its unique characteristics and you should be aware of them in order to choose the right finish for your deck.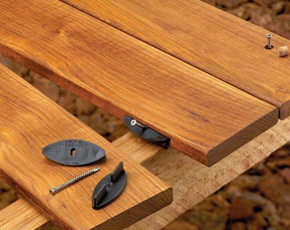 EB•TY
Hidden composite deck fastners create smooth and safe decks, making sure there are no nails, or screws or pop ups to mar the beauty or the comfort of the deck. The decking boards are held together by polypropylene biscuit fasteners whose design has been patented, producing a smooth surface that enhances the appearance of the building materials.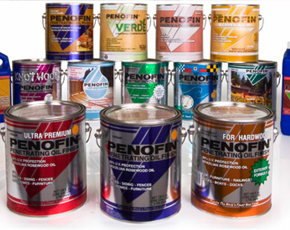 Penofin
Manufacturers of "The World's Finest Wood Finishes" and wood care products. Brazilian Rosewood Oil harvested from seed, carefully gathered, and then pressed and purified. This natural base creates a stain that penetrates deeper, preserving wood longer. We believe that one way of caring for our environment is by using our limited raw material's to create beauty.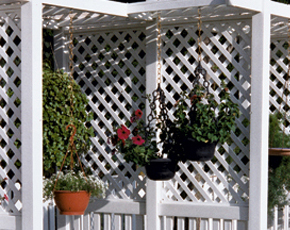 PVC Lattice
An ideal solution to divide or create privacy in your yard, patio, garden, deck, court yard, terrace, outdoor restaurant, beer garden, pool area divider, smoking area sectioning, etc. No painting is required and the items are UV stabilized to protect against discoloration and weakening for long term all weather outdoor applications.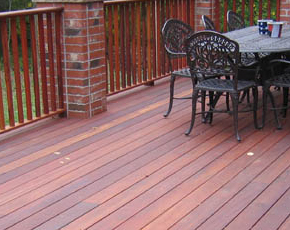 Redwood
Redwood gives you legendary durability that holds up to the elements with natural beauty. You can keep the surface color looking like new with a finish that accentuates the character of the wood, or choose the no-maintenance option and let your redwood age gracefully, taking on a distinct gray-weathered look over time.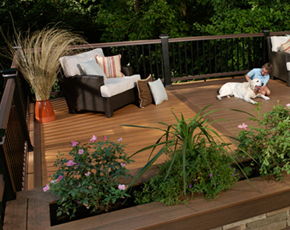 TimberTech
TimberTech maintains its color and beauty for years without the work of painting, staining or sealing. And, because it resists mildew, warping and insects, there's no need to replace rotting, uneven or termite-damaged boards. This saves time and money over the life of your deck and fence. TimberTech is low maintenance, safe, durable, and can even increase the value of your home.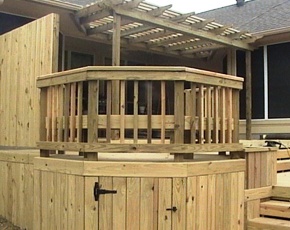 Treated
Treated wood is an exterior building product that's rot and insect resistant. Treated wood is used for decks, mailbox and light posts, swing sets and playscapes, picnic tables, landscape ties, underwater dock pilings, oceanside boardwalks, and telephone utility poles. Its unique ability to fend off decay makes it ideal in any high moisture and/or ground contact installations.